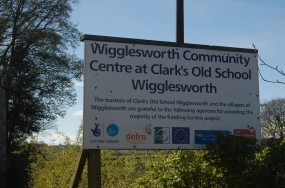 Wigglesworth Community Centre and Saturday Cafe

The Trustees of Clarke's Old School Foundation met on 03/12/2020 to review the Government's Covid19 Tier 2 guidance and consider options for the Centre and Saturday cafe. It was agreed that the Community Centre will remain closed to all activity, including the Saturday Cafe.  Government advice will be routinely monitored and the Trustees will review the situation again on or before 14th January 2021.

In the meantime The Trustees would like to thank everyone for their continued support for the Community Centre and Saturday cafe and to wish everyone all the very best for Christmas and New Year.
Back to news