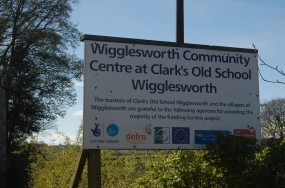 Wigglesworth Community Centre and Saturday Cafe
The Government Coronavirus Roadmap announced on 22nd February 2021 set out four steps that relate to exiting the current 'lockdown' restrictions. Each step is of course dependent on information that demonstrates it is safe to lift the restrictions.
Subject to Government guidance, we plan to reopen the Saturday Café for a takeaway and outdoor service (if the weather permits) on Saturday 17th April 2021. The outdoor table service will be limited to 6 people or two households.
Indoor activities, including operating the Saturday Café at the Community Centre will be kept under review but will not take place before 17th May 2021. The rule of 6 or two households is expected to continue to apply at this time. The requirement to order, eat and drink while seated ('table service') will apply to indoor food service provision.
We look forward to welcoming everyone to the Community Centre when it is safe to do so. Meanwhile, take care and stay safe.
The Trustees of Clarke's Old School Foundation. 3rd March 2021.
Back to news