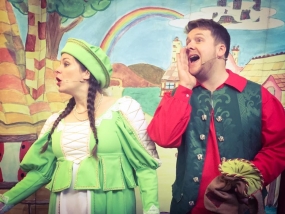 DUE TO ONE OF THE ACTORS BEING UNWELL, THIS PERFORMANCE HAS BEEN CANCELLED
Panto at the Community Centre, Tuesday 2 January, 7.00pm
The Pocket Panto team are back to help Wigglesworth welcome in the new year with their own take on the traditional panto. There's all the usual fun (oh - yes there is!) but forget what you knew about normal panto and come along for a fun evening out - whatever your age.  Suitable for adults and children alike.
And why was Cinderella so bad at football?  Because she had a pumpkin for a coach, of course!
Tickets are £5 and £10 and it's curtain up at 7.00pm.
Back to events